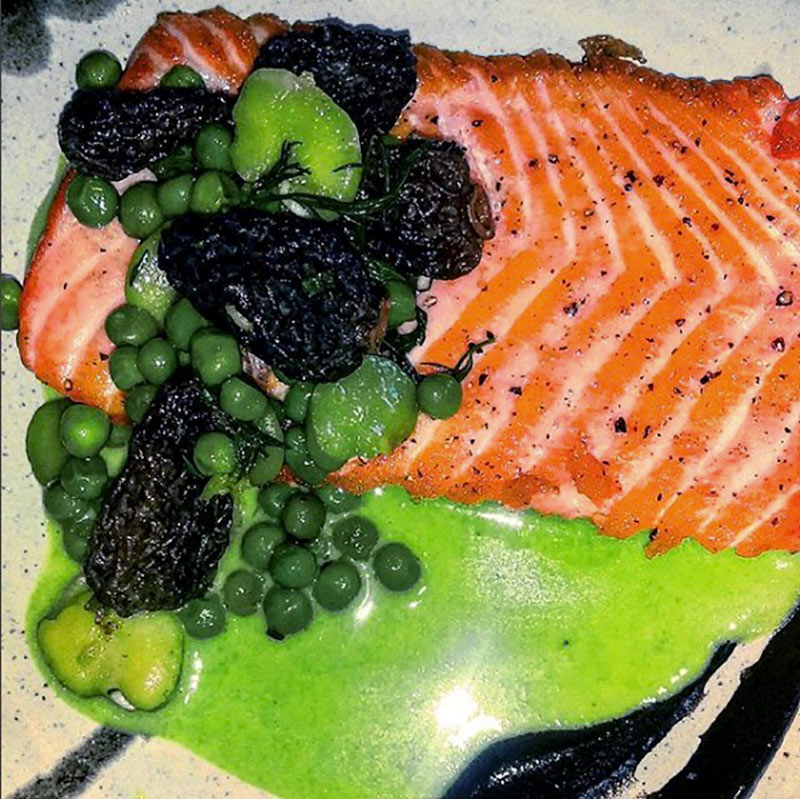 You have a box of wild Alaskan salmon caught at Crystal Creek Lodge and now you're looking for some great salmon recipes right? Crystal Creek Lodge Chef Brian has outlined one of his favorite salmon recipes below. Give it a whirl and tell us how it goes.
INGREDIENTS
10 sprigs fresh thyme
1 large sprig fresh rosemary
2 cloves garlic, peeled and lightly crushed
About 3 cups olive oil (more to cover fish)
2 pounds salmon fillet, cut into 4 pieces, at room temperature
2 lemons, (one cut into wedges for garnish)
Salt
Black pepper to taste
Minced parsley, chives or another fresh herb (for garnish)
STEP 1
Combine thyme, rosemary, garlic and oil in a pot just wide enough to hold fish in a single layer without touching. Note: When fish is added, oil should cover it, so it is better to use more oil than not enough. Peel 1 lemon, using a vegetable peeler to remove yellow    
part only, in strips. Add peel to oil. Season fish on both sides with salt and pepper.
STEP 2
Fit skillet with a deep-frying thermometer and heat oil to 180 degrees over medium-low heat. Reduce heat and monitor temperature, adjusting until temperature is a stable 180F, with small bubbles occasionally rising to surface. When temperature is stable, add fish. Oil temperature will drop, so raise heat slightly (never above medium-low) until it reaches 180F again; then reduce.
STEP 3
Cook fish 13 to 15 minutes, until top is completely opaque and flakes easily with a fork. Remove to a plate lined with paper towels, let drain. Place on serving platter, sprinkle with herbs, and serve immediately with lemon wedges.