All hunts are conducted or supervised by Dan Michels, an Orvis Endorsed Wingshooting Guide. Hunting guides at Crystal Creek Lodge have substantial bird hunt guiding and dog handling experience.
The earliest waterfowl season in the United States opens in Alaska on September 1. The ponds and estuaries of the Alaska Peninsula comprise the first staging area for migratory waterfowl entering the Pacific Flyway.
Waterfowl pursued are duck species of American widgeon, northern pintail, green wing teal, mallard, greater scaup (bluebill), and gadwall as well as species of geese including cackling Canada goose and Pacific brant.
Hunting Calendar | Hunting Photo Gallery | Packages and Prices
Shooting is done from hunting blinds over decoys, with two shooters and one guide in each blind. Competent guides do the calling and carefully supervise each hunting blind. Most days a retrieving dog is available and watching them work adds to the enjoyment of the hunt.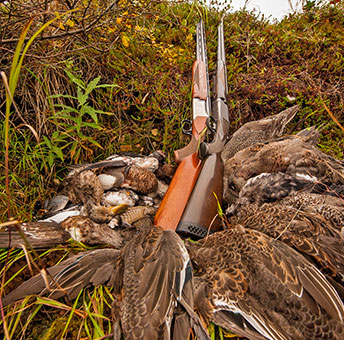 Guns and ammunition are provided. We have 12 gauge pump or over/under shotguns, steel shot ammunition, waders and camouflage clothing. Guests are welcome to bring their own guns and hunting gear.
We rotate hunters on several shooting areas – some are freshwater ponds, some are saltwater estuaries – resting these areas between hunts. New birds migrate into these ponds each day. Birds in Alaska have yet to be hunted in early September and are not decoy shy. Limits are generous and duck hunting in Alaska is a always a memorable experience.
The Alaska Peninsula and its role in the Pacific Flyway:
The passage of gulls, ducks and other water birds at Point Barrow, Alaska and at other points on the Arctic coast may be the best defined Arctic route in North America. This route across the Alaska Peninsula and the Gulf of Alaska and parallels the coast line of British Columbia, Washington, Oregon and California. The Pacific oceanic route is used by the Arctic Terns that breed in Alaska and those from the more western tern colonies of Canada. The vast delta region of the Yukon River in Alaska is a breeding ground for many species of waterfowl and this area marks the northern terminus for some of those that use the coastal route for most of all of their migratory flights. -birdnature.com
"
Dan Michels is bar none the finest upland/waterfoul bird guide working in Alaska. His breadth of ability is astounding... you'll not be disappointed, either in Dan, or in the CCL hunting experience; it's the very best!"