A chefs' kitchen is adjacent to a dining room that overlooks the Naknek River. The kitchen is open to guests and you are welcome to watch our Chef de Cuisine & kitchen staff and converse with them as they prepare your meals and serve the table. Our kitchen provides some of the very best dining available in Alaska.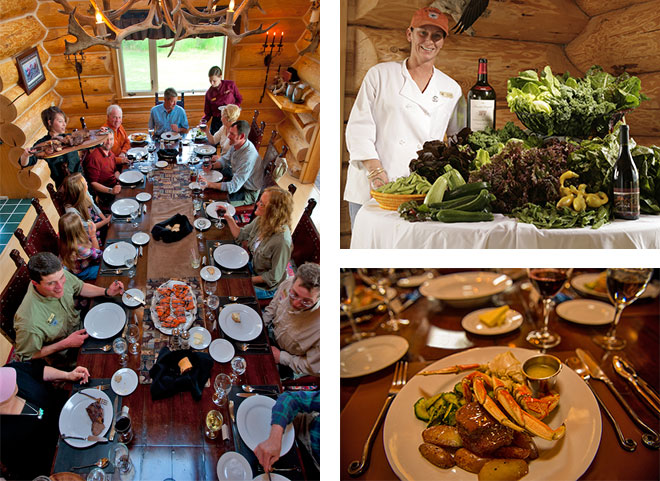 Our food philosophy emphasizes fresh, and whenever possible, local, ingredients.  We gather the highest quality ingredients available, then prepare and serve delicious meals. Our chefs have complete freedom to create and they use whatever inspiration hits them for the day along with the ingredients immediately fresh and available from purveyors and our greenhouse.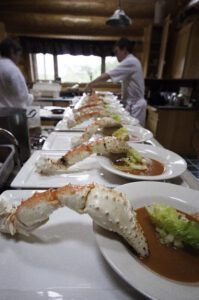 Foods from the land and of the seas surrounding Alaska are featured whenever possible. We buy fresh garden vegetables, herbs and potatoes from Alaska farms as well as fresh Alaskan salmon, halibut, King Crab, Kachemak Bay oysters, Spot Shrimp and scallops. We also love land meats and feature beef, chicken, duck, pork and lamb from Alaska growers prepared in a variety of fashions and served alongside the seafood. Being at the apex of the Pacific Rim, we will feature Asian and West Coast culinary styles along with some twists on classics of continental Europe.
Our salmon is fresh yet if you would like dine on salmon you caught or wild duck or ptarmigan you harvested, our kitchen staff will create a memorable meal or hors d'oeuvres on request.
Beer, Wine and Liquor
Crystal Creek Lodge has a licensed bar stocked with a wide variety of domestic and imported beers and spirits. We have two delicious varieties of Alaskan microbrew beers on tap.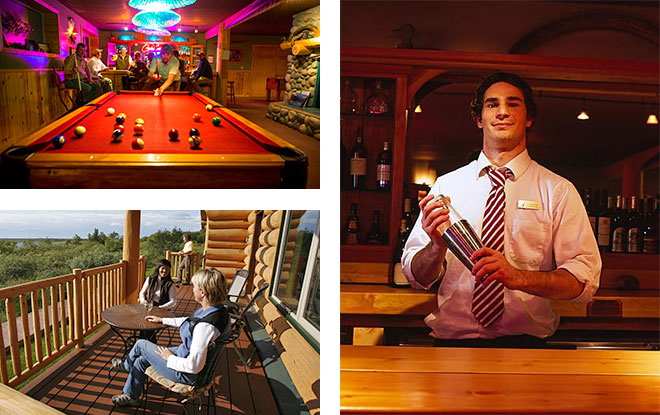 We also appreciate wine and have a wine cellar. Featured is an extensive list of fine wines from around the world to complement the dinner menu.  While our actual wine list is substantially longer and varied, and averages about 50 selections in a given year, here is a sampling of the selections;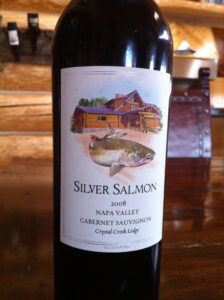 Chardonnay: Miner Wild Yeast, Napa, California
Sauvignon Blanc: Cloudy Bay, Marlborough, New Zealand
Pinot Gris: Cloudline, Oregon
Viognier: Miner Simpson Vineyard, Napa, California
Champagne: Roederer Estate Brut Premier, Anderson Valley, California
Pinot Noir: Kosta Browne  Russian River and Sonoma Coast, California
Malbec: Achaval Ferrer, Mendoza, Argentina
Cabernet Sauvignon: Caymus, Napa Valley, California
Merlot: Twomey, Napa, California
Red Zinfanel: Ridge Geyserville, Sonoma, California
Genache: Chateau de Beaucastel, France
Bordeaux: Chateau St. Pierre Pomeral, France
Guests are welcome to bring their own bottles of wine to share with friends at our table.
Enjoy our variety.  You are at an above-average quality vacation destination so accordingly, all beer, wine and spirit selections are of above average quality.