Widely represented through the Bristol Bay region, the chars have proven a beloved quarry of Crystal Creek anglers.  Dolly varden char and Arctic char are common in the sub-arctic waters accessible from the lodge, and CCL anglers routinely find them in remarkable number. 100-fish days are not uncommon on some of our preferred streams, and anglers can catch dozens of char in the 18-28 inch range during a single day of fishing. But char afford our guests much more than simply a high-volume angling opportunity; they are emblematic of the far north, and a defining piece of the Alaska fishing experience.
By nature, the chars are aggressive, strong and colorful fish that congregate in the region's smaller streams. Like their cousin the brook trout, Arctic char and dolly varden are eager takers and strong fighters, but it is their physical appearance that most sets them apart. The chars exhibit deep olive color fading to silver along the flanks. They have tell-tale whitish, yellow or orange/brown spots that become more pronounced toward the belly, and the leading edge of the fin margins are stark white. The overall coloration of the chars varies based on predominate feed and time of year, though dolly varden tend to be lighter and more silvered than Arctic char. Both species take on remarkable spawning color as the northern autumn emerges, and at this time they become the most stunning of Alaska's game fish. Throughout the season, char are truly a sight to behold.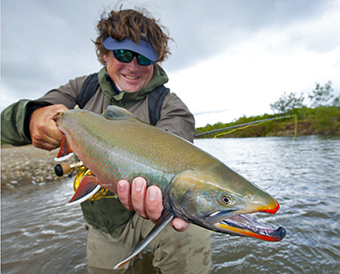 Both Arctic char and dolly varden eat a range of insects, baitfish, crustaceans, and indeed smaller char. Their eclectic tastes allow anglers to pursue them across the disciplines, though at CCL the char fishing program hinges on light-tackle fly fishing. Dry fly fishing for dolly varden is excellent during the first half of the Crystal Creek season, and they can be caught alongside some large grayling (up to 20 inches) in several streams near the lodge. The Arctic char is the larger of the two represented char species, and colorful specimens topping 30 inches can be targeted by sight fishing in the latter half of the season. Generally, char fishing is a walk-and-wade game through beautiful, remote country, where bears and eagles are the only other anglers on the water. Char water is often quite shallow, gravel-bottomed, and easily waded. When dry fly fishing turns off, streamers and egg patterns round out the char angler's quiver, and fly rods in the 6-8 wt. range are the norm. That said, a heavy char will make a believer of any 6 wt. angler, and appropriate reels are necessary for managing the bigger specimens.
Memories are made at Crystal Creek Lodge, but a day or more of char fishing will give those memories color. Take advantage of CCL's unique access to these remarkable fish, and the untrammeled places in which they live.
"
Dan, for as long as I live I will never forget that giant, 35-inch orange char that we saw together and I caught. Thank you for a most memorable moment of a all-together memorable trip.