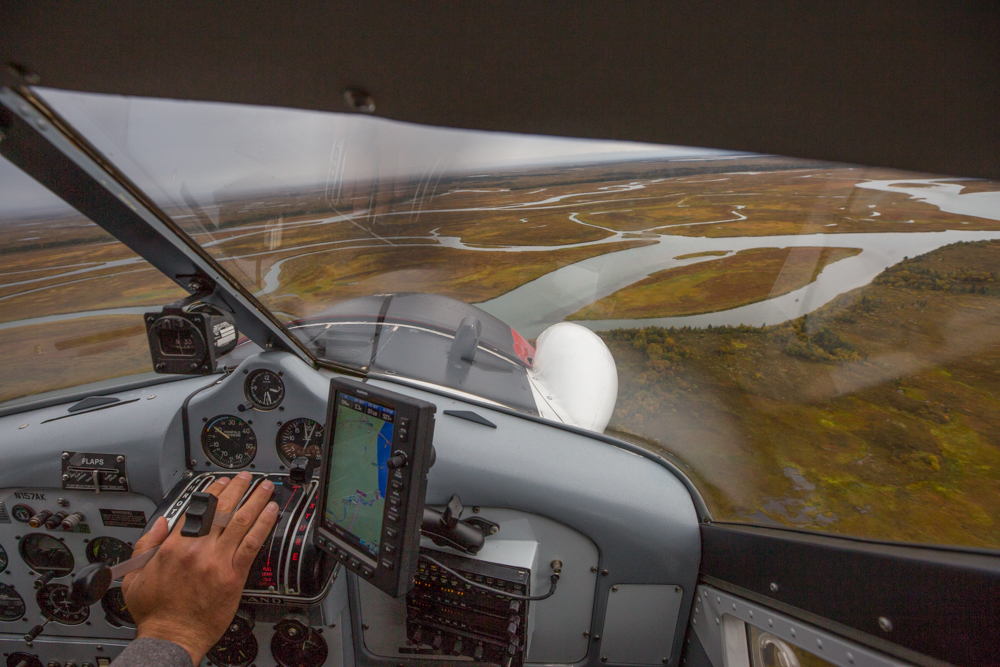 It's been one of those drizzly summers. This year, we've experienced a handful of "no-fly" weather days, where we won't fly due to extreme wind, low ceiling, poor visibility or all of the above. This has inspired me to write a little bit about flying, weather, safety, and the unpredictability of our wild Alaskan environment.
First: This is all about the safety of our guests and our staff.
Our guests trust us to provide them with an inspired Alaskan vacation.  Therefore, our guests trust us first and foremost to keep them safe. Considering there is already a wide spectrum of risk that we manage daily just taking our guests into the wilderness to participate in guided fishing or wilderness adventure, there is no place for extreme risk.  While there is a world of opportunity for those desiring extreme risk, someone will not find it here, for a few fish.
Second: This is about accepting what we can control and what we cannot.
Over my many years in the lodge business, I realize one of the great gifts I can set for my guests to receive is the realization that there is much we can control in life and there is much we cannot control.
We can control the conditions within the lodge. We can control the hospitality environment. We can buy and maintain excellent quality aircraft, boats vehicles and other equipment made for the purpose. We can interview, hire and culture great staff. We can control our daily plans and how we can potentially adapt to changes in those plans caused by the natural environment.
We cannot control the timing and abundance of fish. We cannot control the weather; even to a lesser extent than we can control someone else's mood, behavior or beliefs.
We can do our best to set reasonable expectations then exceed them.
Third: Being at the right place at the right time is paramount to success in many aspects of life.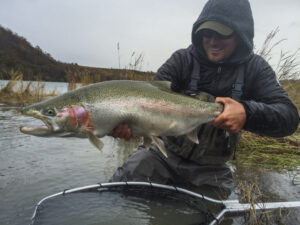 While we have this amazing array of tools with which to do our job, our ultimate success always points back to the old real estate maxim: Location, Location, Location." Our location on the Naknek River is amazing, and we selected it with great intention:
• Privacy.
• Natural beauty.
• Easy access to King Salmon for guest travel and supplies.
• A safe moorage and near-perfect operating base for seaplanes and boats.
• Perfectly situated to access the greatest freshwater fishing on earth, within 100 miles, by aircraft.
• Outstanding fishing on the Naknek River.
Whether the wind is gusting 40 mph or there is river fog to the ground, at Crystal Creek Lodge, we are blessed to have the world-famous Naknek River right out our back door for our guests to enjoy. On some days, it seems funny to fly out when we have the best fishing right here on the home river. The Naknek truly is the cornerstone of our fishing program. It allows us to fish and adventure with our guests without flying in tough conditions, accommodating our low risk tolerance.
In the end, we are only observers of nature in this place. The salmon runs, the weather, and the raw Alaska landscapes dictate our path. Our hope is to move, touch and inspire our guests during their stay here, and we intend on doing that safely.
Today, as I write this, the fog is near the ground and all of our guests are fishing the Naknek, catching Rainbow Trout upriver and catching Silver Salmon within sight of the lodge. Yesterday one guest, who has fished with us eight times over the past ten years, said his day of fishing on the Naknek River was one of the best days of his life.
It promises to be a great day today.