Walrus viewing: Three of the only regularly used terrestrial haul outs for Pacific walruses in the United States are within flying distance of the Lodge, two of the haul outs are on capes accessible by aircraft and one on an island accessible only by boat. We visit one site 125 miles south of the lodge that has the greatest number of approachable walrus.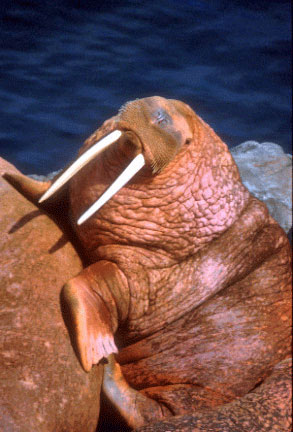 The walrus viewing adventures are unique naturalist opportunities where you can see hundreds or thousands of wild walrus bobbing in the surf and hauled up on the beach. It is also probable to see herds of caribou, groups of bear, fox and other small mammals, estuaries filled with migratory waterfowl and numerous other rare upland birds in spectacular wilderness settings.
Very few visitors come to see these rare natural wonders each year and Crystal Creek Lodge is the only lodge in Western Alaska and Bristol Bay offering these kind of guided naturalist trips. The trips to the cape is a day trip by aircraft. The flights to these viewing places take you across some of the most spectacular flightseeing scenery in Western Alaska and your pilot/guide will interpret the dozens of sights and landmarks along the way.
Due to longer than average aircraft flight times, associated extra costs might apply.
*** NEW TO 2016 *** Over 2,000 walrus have stationed themselves at Cape Grieg, near the mouth of Ugashik River and about 70 miles south of Crystal Creek Lodge.
Please inquire regarding the details of these unique adventures.
Walrus Fun Fact:
The feeding habits of the walrus are very interesting. They consume foods from the bottom of the ocean including crabs, clams and other mollusks. They have also been known to feed on seals when they need to. Due to the large size of these animals (males can weigh 3000+ lbs.) they have to consume large amounts of food each day. Generally that will be about 6% of their overall body weight.