Rafting & kayaking southwest Alaska is one of best ways to connect with nature. Two options are available for day adventures, one is a kayak day trip floating the from the headwaters of the Naknek River in Katmai National Park downriver to Crystal Creek Lodge. The other is a raft trip on a remote river in Katmai National Park.  Both options have fishing available or you can just enjoy the ride.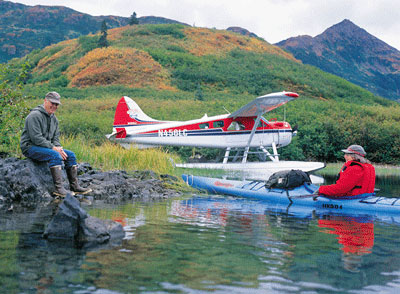 The Kayak trip is a very easy float that is guided and safe for kayak operators of all skill levels. Before each float, the guides will ready the Kayaks and brief each guest about their operation and safety. Double or single Kayaks are available. The waters near the Kayaks are much protected and the current gentle.
The Raft trip is conducted from a very durable modern inflatable raft equipped with a rowing frame, which your guide will row. Again, this is a gentle float with minimal rapids in the water.
A stream side lunch will be served halfway into the trip. Salmon shore lunches can be requested. The pace is leisurely and comfortable. The rafts and kayaks are so stealthy, we sometimes see bear, moose or caribou on the shorelines. Beavers and other small animals can be seen as well as a multitude of raptors, waterfowl, shore and song birds.