Our roadless region of Southwest Alaska is filled with inspiring possibilities for the hiking enthusiast. We have innumerable locations to find breathtaking wilderness hikes, and the floatplane is just the ticket to get you deep into the wilderness for a day hike and back home again in time for a hot shower and delicious dinner.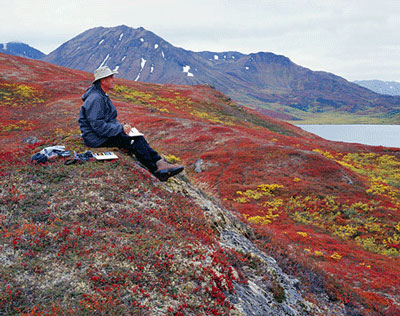 Imagine hiking a trail through a mountain pass used by Eskimos and Aleuts to portage and trade for thousands of years, then consider the same trail was used by Russian traders and explorers in the 1700's when the land was Russian America. How about hiking to the rim of a volcano that has been dormant for 30 years?
We have a few hikes set up to seek objectives such as to view birds, bears, caribou, walrus, seals and other various wildlife, waterfalls, rock formations or just plain beautiful scenery vistas. Of course there are all kinds of places to hike into and find great fishing.
A scenic hike in remote Alaska can can be one of the most rewarding and memorable experiences of a trip to the Lodge. Don't forget your camera!
The alpine tundra on most mountains in Becharof National Wildlife Refuge is relatively firm and brush free.