Daily Schedule – Alaska Fishing Trip
Each evening at the lodge a daily schedule is created by our Head Guide, which takes into consideration current fishing, water, wildlife availability and weather conditions as well as any guest requests. The schedule is posted after dinner, when our guides meet with each guest for a briefing on the next day's activities and to discuss equipment needs.
Breakfast is served beginning at 6:00 am, with departures from the lodge by aircraft or watercraft beginning at 7:00 am from the dock. Schedules are flexible, but most guests return by 6:00 pm. Dinner is served at 7:30 pm. To learn more about our Adventure program click here.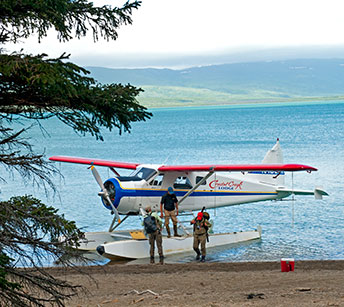 Weekly Schedule
A sample fishing itinerary for a guest visiting for a full week might be as follows: Sunday of arrival: Arrive at either 3:00 pm or 6:00 pm, transfer from airport to lodge, be shown your room, meet with head guide, get equipped with licenses, waders and tackle, meet with guide, have dinner.
You also have the option to arrive early in the morning on the Sunday of arrival and have a guided fishing day on the Naknek River. Extra costs apply. You may also request evening fishing with your guide from the hours of 9:00 to 11:00 PM.  Extra costs apply.  See the Packages and Prices page for details.
Guests visiting on a four day package will arrive early the morning of their arrival and be taken fishing on the Naknek River, as soon as possible after check in, as part of their package. We work hard to make sure your Alaska Fishing Trip is the best it could possibly be.
Here is a sample schedule for a guest visiting on a week package:
Day 1: Arrive late afternoon, check in, be shown to room, receive tour get equipped, and meet with head guide to outline desired activities for upcoming week before dinner.  (Extra cost option: arrive early morning and fish a full day on the Naknek River.)
Day 2: Fly to a small stream in Katmai National Park to walk and wade fish for trout and char
Day 3: Fly to a small stream in Katmai Preserve to raft a river and fish for trout and char
Day 4: Fish the Naknek River for salmon or trout
Day 5: Fly to a river near tidal water to fish for salmon arriving on the tides
Day 6: Fly to a to small stream in Becharof National Wildlife Refuge to walk and wade fish for char and grayling
Day 7: Repeat a favorite day or embark upon a new adventure elsewhere.
Sunday of departure: Depart lodge at 8:00 am after breakfast to meet 9:20 flight to Anchorage
Customization of your Alaska fishing trip is of the utmost importance to us, and there are many ways to customize your trip. Some guests like to fish the entire week, or fish for a specific type of fish or technique of fishing, some like to mix hunting or other activities with fishing.
Upon arrival, you will be offered a variety of guided activities from which to choose for your days afield. All are carefully designed to be comprehensive and entertaining. These activities include:
Fly Fishing for all species of fish
Trolling or spin casting for salmon
Wildlife viewing for bear, caribou, walrus, marine mammals and birds
Hikes in nearby Katmai National Park, and the Becharof National Wildlife Refuge
Beachcombing hikes on nearby seashores
Kayaking on the Naknek River in the Katmai National Park section
Wing shooting for ptarmigan or ducks (in season)
All trips are sold double occupancy/participation and the scheduling of activities is dependent upon guest participation in increments of two unless other arrangements can be made. In other words: two guests traveling together must schedule for the same daily activities unless they "trade" with another pair of guests at the lodge or unless unusual circumstances permit scheduling otherwise. Guests may elect to fish the entire week or break up fishing with wildlife viewing or hunting activities.
"
The overall experience was superb. I have visited six different lodges in Alaska and Crystal Creek is the best. It is in a league of its own. The lodge was beautiful, the fishing was great, the staff was excellent. You couldn't ask for a better Alaskan fishing experience."