In a region of Alaska with tens of thousands of square miles of wilderness, having the right aircraft & equipment for the job is the key to access. Taking care of that equipment is the key to our guest's enjoyment and safety.
Getting there is a big part of the adventure. Crystal Creek Lodge operates a fleet of four DeHavilland Beaver aircraft equipped with either floats or wheels.  That is four aircraft and a total of 24 passenger seats to serve our guest capacity of 16.  We also operate a fleet of 20 river boats, based either at the lodge or at remote fly-in locations, to deliver our guests to their daily adventure destinations.
Aircraft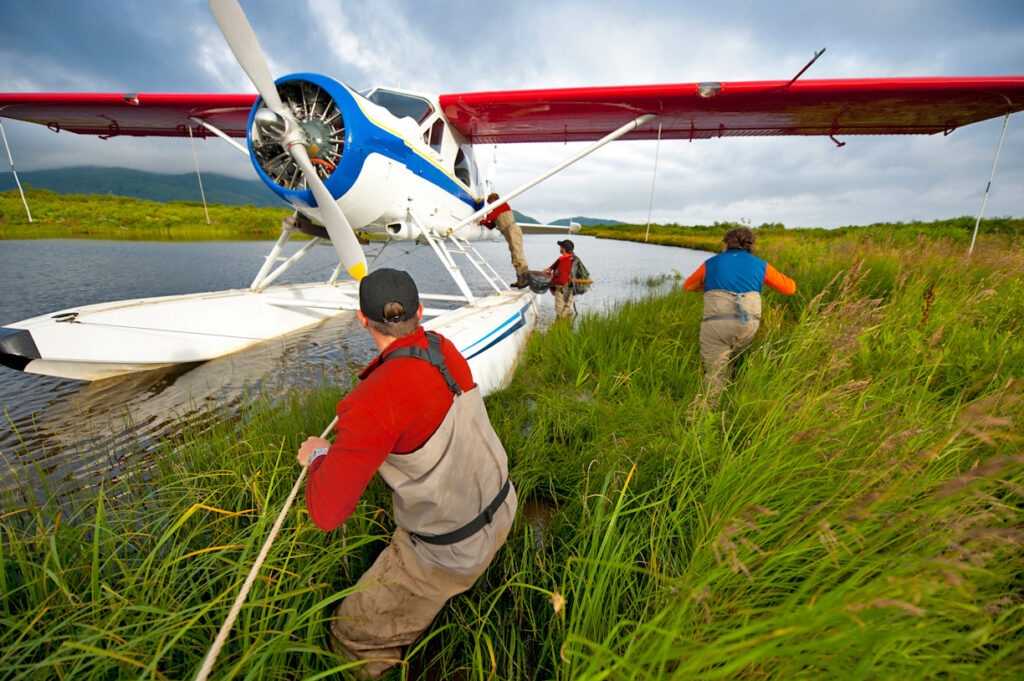 The Crystal Creek Lodge aircraft have all been carefully restored and are meticulously maintained. They are some of the finest examples of the DeHavilland Beaver flying.  Their qualities go way deeper than paint and interior, as they undergo thorough annual inspections & constant improvements during the winter months and receive inspections throughout the summer season by our on-site mechanic.  No reasonable expense is spared towards the interest of providing safe, airworthy aircraft.   This is an extremely important consideration on our guest's behalf.  All of our Beavers have a window seat and voice operated intercoms for our guests.
Dan Michels, the owner and operator, is one of the pilots.  Dan has flown in the Bristol Bay area of Alaska since 1988 and he personally selects, trains and oversees three additional pilots on staff and their operations on a daily basis.  
Watercraft
A fleet of eight river boats are ready at the Lodge dock.  The boats allow our guests access to the Naknek River in the event of inclement weather delaying fly outs or if outstanding fishing conditions are available on the Naknek River  We also have 12 boats stationed at various remote rivers to provide transportation after flying in.
All Crystal Creek Lodge guides are licensed U.S. Coast Guard captains and accordingly they maintain the boats to Coast Guard safety standards.
Rods, Reels, Tackle and Waders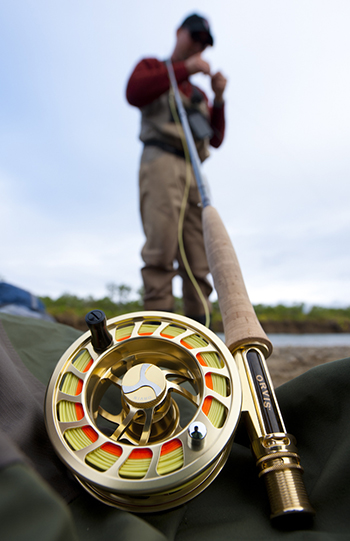 We have over 85 of Orvis' first quality fly rods, reels and lines for guest use.  They are in the most popular sizes of 6, 8 and 10 weight. We also have a complete selection of spinning rods, king salmon casting rods and reels and all flies, lures and terminal tackle available for guest use at no extra cost. Our guides are fully equipped to take care of our guests'  equipment needs under any circumstance encountered.
We have an extensive selection of first quality Orvis waders and wading boots, in the most common sizes, for guest use at no extra cost.  Please call if you have questions as to whether your sizes will be available.
NOTE: Felt soled wading boots are illegal in the State of Alaska. Learn more here. Carbide studded soles are prohibited at Crystal Creek Lodge due to their ability to quickly and extensively cause damage to floors, walkways, docks, boats and aircraft surfaces. The vast majority of our rivers and streams are fine gravel and sand bottomed so thus carbides are not required. Bring a wading staff if you feel to need one.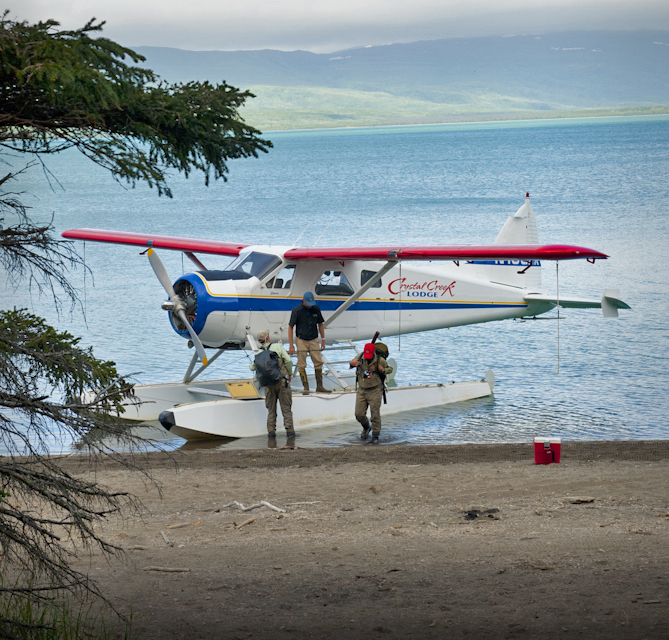 The DeHavilland Beaver is a classic bush airplane and an iconic symbol of northern wilderness adventure.  The Beaver was designed in Canada in 1946 and 1,692 were manufactured there until 1967.  That approximately one thousand are still flying is a testament to their durability and desirability as a bush airplane.  A remarkably well-documented history of the Beaver is available at www.dhc-2.com.
The Crystal Creek Lodge Beavers are serial numbers 158, 602, 2000SC and 1601.  Lodge Beavers SN 158 and SN 1601 are painted to match their original factory colors.  Lodge Beaver 602 was originally a US Army aircraft.  Rather than paint it olive drab we decided paint it to match the first paint of the original prototype Beaver, serial number 1.