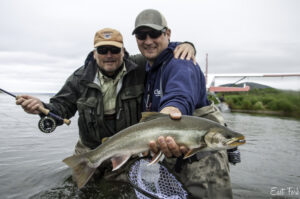 The sea-run Dolly Varden are flooding into the Bristol Bay area rivers, following the salmon from the ocean to the spawning creeks. The Dollies are stacking the catch numbers substantially as our guests fish small streams.  Shown is pilot/guide Alex holding a Dolly caught by guest Joe W. of Long Beach, CA.  Joe just completed his sixth trip to Crystal Creek, this trip with his son, Joey.  Thanks, guys.
From the Alaska Department of Fish and Game website:
Dolly Varden (Salvelinus Malma)
While in the ocean, and for a short time after entering fresh water, adult sea-run Dolly Varden are silvery with a faint green sheen overlain with light orange spots. Once they reach fresh water, this silvery appearance transitions into greenish-brown with dark-orange to red spots. As spawning season approaches, males become brilliantly colored with red, black and white bellies, black gill covers, bright orange to red spots, and bright orange and black fins with a bright-white leading edge. Males also develop a strongly-hooked jaw (kype). Female spawners develop similar characteristics, but to a lesser degree.
Freshwater forms of Dolly Varden have olive-brown (when in clear streams) or pale silver-gray (when in glacial streams) sides overlain with orange to red spots. As spawning season approaches, adults develop spawning colors as described above for sea-run Dolly Varden. Dwarf freshwater forms often retain parr marks as adults.