Silver Salmon Fishing Alaska: The Yantarni Salmon Camp is a private, wilderness tent camp where Crystal Creek Lodge guests fish for Silver Salmon in wadable, small streams during late August through the month of September. Yantarni is 125 miles south of the Lodge on the Alaska Peninsula, and is at one of the most remote and beautiful locations within Alaska.  We travel to and from Yantarni using our own private wheeled aircraft and land at a gravel airstrip adjacent to the camp.
Yantarni can be scheduled as a guided day trip from the lodge but to make the most of the Yantarni experience we recommend an overnight stay at our well-appointed, safari-style camp for one or more nights.  The camp features insulated 12′ x 20′ guest sleeping tents that have 7'6″ ceilings, wood floors with rugs, comfortable beds with fitted sheets, electricity and wood-burning stoves to keep you snug and warm.  There is also a tent with a flush toilet and an indoor shower with piping-hot running water.
A spacious 16′ x 40′ kitchen and lodge tent is where the meals are served and guests relax together.  The camp chef works closely with our lodge chef to ensure your food is up to the quality standards you expect from Crystal Creek Lodge.  Fresh salmon is served to accompany either your lunch, dinner or both.  Wine, beer and spirits can be supplied from the lodge to accompany you to the camp.
Fishing is done at one of three small, wadable freestone streams that flow into the nearby Pacific Ocean.  One of the streams runs 100 feet from the camp and the camp is one mile inland from the ocean. Some of the best salmon holding pools are near the ocean. You and your guide either walk out from the camp to fish or travel to and from the tidewater holding pools using comfortable quad All Terrain Vehicles.
Chum, Pink and Silver (Coho) Salmon are available at Yantarni, as are sea-run Dolly Varden.  The Silver Salmon of Yantarni are the prize most guests seek, and they are above-average in size, most between 10 and 15 pounds with some fish up to 20 lbs.  Many fish caught have just arrived into the stream on the most recent tide, and they are strong and fight with abandon!
A visit to Yantarni is an amazing adventure and the salmon fishing is often described as "incredible".  Due to limited aircraft space combined with our desire to protect the amazing plentitude of salmon at Yantarni, Yantarni salmon are catch and release with the exception of salmon served at lunch and dinner.
Yantarni is an experience exclusive to Crystal Creek Lodge guests and there are no extra costs incurred to visit. Due to limited space at Yantarni guests visit the camp on a first-reserved basis.  Please make advance reservations to visit Yantarni at the time of booking your trip to Crystal Creek Lodge.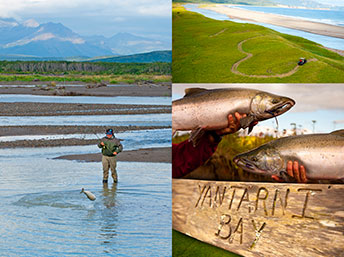 See Also: Yantarni Photo Gallery
"
I opened the Yantarni camp 30 years ago. It is without a doubt one of the most amazing places in Alaska. Incredible is the word I use most often to describe it. Dan and his team at Crystal Creek took a great thing and made it better with the camp improvements and the new ATV's