**** NOTE: due to a severe drop in the ptarmigan population in our region after the mild, wet winters of 2014 and 2015 and low brood counts in the summers since, we suspended our guided ptarmigan hunting program effective the 2015 season.  Conditions have continued for the 2016, 2017 and 2018 seasons.  Due to low bird counts witnessed early 2018 we expect to continue resting the resource in 2019, please inquire after July 2019 for the 2020 season.  ****
Click here to read about the decline in ptarmigan numbers.
All hunts are conducted or supervised by Dan Michels, an Orvis Endorsed Wingshooting Guide. Hunting guides at Crystal Creek Lodge have substantial bird hunt guiding and dog handling experience.
Crystal Creek Lodge offers the class act of guided Alaskan upland bird hunts. We have been guiding upland hunts since 1993 and have given extraordinary consideration toward the development of the hunting program.
Hunting Calendar | Hunting Photo Gallery | Packages and Prices
Hunters are provided with carefully researched, productive covers, experienced and competent guides, carefully trained pointing dogs of exceptional breeding, quality double guns and all other appropriate hunting equipment.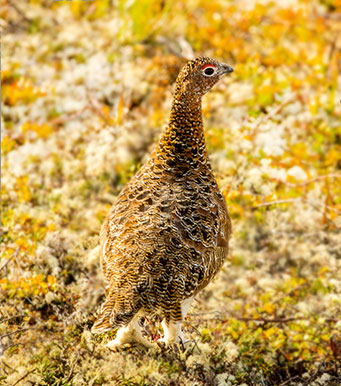 The Crystal Creek chef will prepare and serve your game upon request. Be sure to explore our Dining and Food Service page.
Ptarmigan hunting season begins in southwest Alaska on August 10 of each year and goes through the end of the Crystal Creek Lodge season. All birds are wild. Seeing and flushing bird numbers into the hundreds is not unusual on any given day in the field.
The local upland hunting range includes numerous covers within the normal area of flight operations. Covers and birds exist in sufficient quantities that we are able to offer all of our upland hunters at least one opportunity to be the first guns on one section of cover. We seldom visit covers more than twice per season and give the covers sufficient rest between visits.
Alaskan upland hunts are conducted by one guide directing a maximum of two hunters. The country is big and the vistas extraordinary. Pointing dogs steady to wing and shot locate and hold game.
We recommend that you bring your favorite double gun; otherwise a 12 or 20 gauge double gun can be provided. Appropriate ammunition is provided as are blaze orange strap vests. You must provide waterproof upland hunting boots.
The terrain shown is typical cover. While the overall terrain is relatively flat the ground is uneven and 1-3 miles of walking is typical during the course of a hunt. Participating hunters should be in good physical condition.
Willow Ptarmigan(Lagopus lagopus) are found nearly everywhere in Alaska's high, treeless country. They occupy a broad range throughout Canada, Scandinavia, Finland and Russia. The famous red grouse of Scotland is a race of the willow ptarmigan.
Ptarmigan look just like small grouse, weighing from 10 1/2 ounces to 1 1/2 pounds (0.3-0.7 kg) except that their toes are feathered, their wings are white all year, and they have pure white body plumage in winter.
"
Dan Michels is bar none the finest upland/waterfoul bird guide working in Alaska. His breadth of ability is astounding... you'll not be disappointed, either in Dan, or in the CCL hunting experience; it's the very best!"