Adventures Overview
Design an Alaska adventure itinerary based at Crystal Creek Lodge to trek across the sky of Southwest Alaska.  See a region that is wild, dramatic and incredibly diverse.  You'll be hundreds of miles from the thousands of tourists mobbing the popular cruise ship ports or highway-accessible regions of the State. The best part is you might be the only visitor of the day to some of the more exotic places we visit.
A combination of specialists from our guide team will host your day-to-day adventures.  Dan Michels and Alex Oberholtzer, owners, pilots and guides, personally conduct many of the adventure activities.  Flights to the destinations are between 30 to 90 minutes away from the lodge.  The flights themselves will be filled with aerial points of interest and the day will be planned to encompass 2-4 stops at ground points of interest.  Ample time on the ground will be available take advantage of interpretive possibilities relating to history, geography and wildlife abound.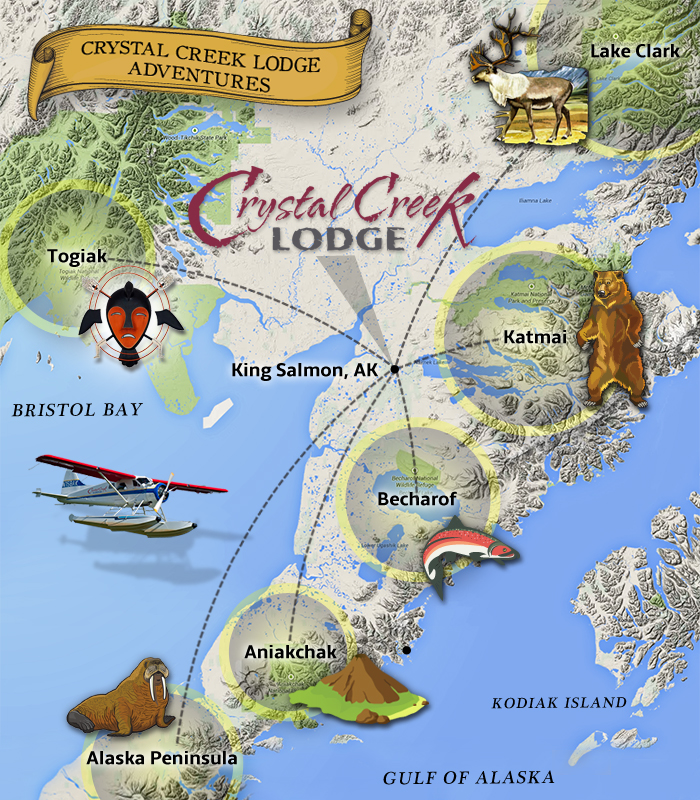 How to design an itinerary:
Pick either a four or seven-day package at Crystal Creek Lodge, then consider the activity and destination possibilities listed on the Adventures menu.  Our guided fishing resources are substantial and fishing can be mixed into the itinerary as desired.  Adventures can be incorporated into a fishing vacation, fishing can be incorporated into an adventure vacation or an adventure vacation can be designed of it's own accord.  Heather Oberholtzer and Dan Michels will personally work with you by phone to explain the best options for the time in season and desired interests: A custom-designed, sample itinerary will be submitted by email for your approval.
Note: Adventure itineraries are available June 1- August 10. Guest parties typically are not divided and must participate together in day-to-day daily activities unless unusual circumstances allow.  The delivery to any destination and participation in any activity is dependent upon favorable weather and other conditions of nature that are potentially beyond our control.  We will do our utmost to deliver a safe, enjoyable vacation, yet the substitution of destinations and activities should be expected at some point in the trip.  Hint: tell us your desired interests then "go with the flow".  It's all great.
Please check out other pages in our Adventures section:
Bear Viewing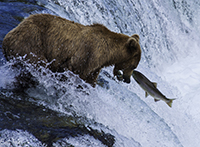 The nearby Katmai National Park and Preserve is world famous for its population of Brown Bears. Literally thousands live there. It is very common to see bears each day as we fly between the lodge and field destinations.
Beachcombing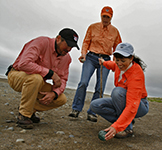 There are many places to go and find great beachcombing. What are we looking for? Shells, driftwood, interesting rocks, bones of giant sea mammals, antique artifacts and detritus from around the Pacific Ocean that washes up on shore. This is pure kids play and…
Hiking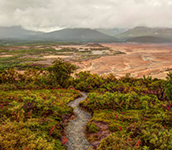 Our roadless region of Alaska is filled with inspiring possibilities for the hiking enthusiast. We have innumerable locations to find breathtaking wilderness hikes, and the floatplane is just the ticket to get you deep into the wilderness for a day hike and back home again in time for a hot shower and delicious dinner.
Rafting & Kayaking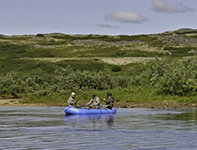 Two options are available for day adventures, one is a kayak day trip floating the from the headwaters of the Naknek River in Katmai National Park downriver to Crystal Creek Lodge. The other is a raft trip on a remote river in Katmai National Park. Both options have fishing available or you can just enjoy the ride.
Walrus Viewing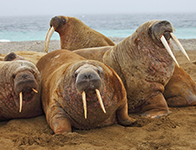 Three of the only regularly used terrestrial haul outs for Pacific Walruses in the United States are within flying distance of the Lodge, two of the haul outs are on capes accessible by aircraft and one on an island accessible only by boat. We visit one site 125 miles south of the lodge that has the greatest number of approachable walrus.
National Parks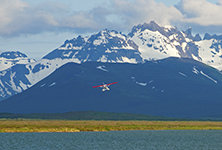 Get out your National Park Passport and check-off Katmai National Park, Lake Clark National Park and Aniakchak National Monument.  Aniakchak is the least visited Monument in the National Park system.